No More Complaining, G2 Solves it All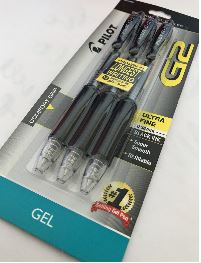 Hang on for a minute...we're trying to find some more stories you might like.
If you have you been looking for a great gel pen that doesn't smudge or smear when lightly touched after writing and smoothly rolls onto the paper, then the Pilot G2 is the pen for you.
A Pilot G2 pen is a retractable fine point gel pen that comes in many different colors. The Pilot G2 pens have been rapidly spreading to many bullet journalers and stationery lovers.  So many people have been raving about these pens being "the perfect pen" especially when many other pen brands claim to give you the best experiences with their pens, when in reality they take forever to dry and smudge extremely easily. This pen is definitely different from most pens.
This pen is good when it comes writing long paragraphs, especially if you are a left handed person and you tend to smudge your writing when using gel or ink pens. These pens smoothly write and flow onto the paper without having to use an excessive amount of force. It's also good for adding small details to drawings or your calligraphy with how fine a tip it is.
These pens do come with a slight downside. It is very hard to highlight over these pens without them smearing a little bit. It's not so bad to the point where you can't even read the words anymore, but it's to the point when to can see little black streaks in the highlighted area. Other than that these pens don't disappoint.
You can find these pens in so many stores for so many different prices. In Target you can get a pack of three pens for less that 5 dollars, but on the original Pilot G2 website, these pens run from around $14.50 for one pen. I would HIGHLY suggest going and buying your pens from Target and Amazon if you are looking for a cheaper deal.