Guitarist Picks to Perfection
Hang on for a minute...we're trying to find some more stories you might like.
Senior Avery Ross is trained on many instruments like the drums and bass guitar but has an affinity for the electric guitar. She's been playing for eight years now and practices two to three hours each day. Four years ago, Ross started posting videos of her guitar-playing on social media and has attracted hundreds of supporters. She has over 1,400 followers on Instagram and her fan-base continues to grow. To see for yourself check out Ross' Instagram at ross_dress_for_less12.
What first inspired you to start playing guitar?
Honestly, my dad played guitar, I was definitely inspired by him. Also, I got into Guitar Hero and stuff and that motivated me to learn how to play for real.
Do you have a favorite musician?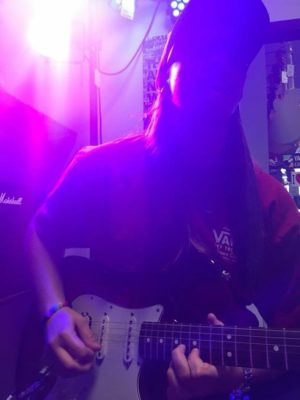 My biggest inspiration on guitar has always been Jimi Hendrix.
What inspires you to keep playing guitar?
I just really enjoy playing live and stuff. I'd like to try and pursue a career in music. I'm in two bands right now. I was in a band and we just played at Summerfest which is one of the largest music festivals in the world in Milwaukee. Right now I'm in two bands and we're just starting up so we haven't played many gigs yet.
What are the names of the bands?
The band's names are "Angel Foodfight" and "Venus in Counting", they're both all-girl bands.
You definitely think you're going to make a career in music?
Yes.
Why do you want to have a career in music
I really enjoy playing, it's so much fun for me.
What made you decide to start posting guitar playing on social media?
I feel like it's for myself in a way even, I love to record stuff and see my progress and mistakes. I've gotten a lot of positive feedback from it and it's helped me come a long way.
Has your support grown since you first started posting?
Yes, definitely.
Do you have any advice for artists or guitarists trying to get recognized?
Put yourself out there. Even if you aren't that good yet, putting yourself out there is better than not trying. If you put yourself out there you have a chance to make it.