New staff members begin school year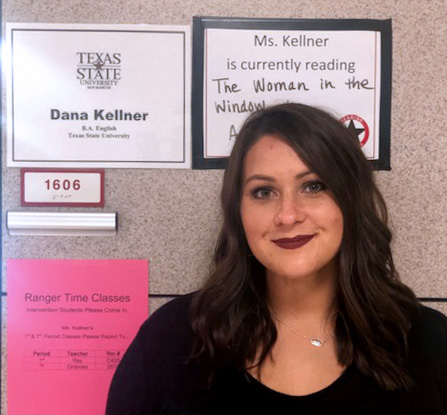 Many changes have been taking place this year, and one of the most noticeable ones is the new faces on the school staff. Pre-AP English III and AP English IV teacher Dana Kellner is one of these newly hired staff members.
"[My family] moved back to Cedar Park because my mother-in-law lives here, and we wanted this to be home for our children," Kellner said. "I had an interview here at Vista and an interview at Glenn on the same day. Mr. Ellison was my interviewer, and he basically didn't let me leave the interview until he knew he could hire me. I could've ended up at Glenn, but you can thank Mr. Ellison for getting me here."  
Although she originally wanted to go into journalism, Kellner loves teaching.
"I knew that I kind of had a gift with making connections with young people, and so I wanted to use that," Kellner said. "I worked on the campus radio station and realized the hours are grueling. I really wanted to have a family, and I love literature. I love writing, and I love information and discussions about the humanities. I knew that this would be a really great way to pair my gifts with building relationships and my love of words and conversation."
Kellner is looking forward to sharing her passion with her students and is excited to see what's to come this school year.  
"I love American lit," Kellner said. "I'm so so excited to teach different things in American literature that have not traditionally been on the American literature list and just really kind of redefine what it means to be American through the texts that we read and the conversations we have." 
The original staff members are enjoying getting to know their other new coworkers, including science and AP research teacher Rhonda Christman. She joined the staff when the school opened, and originally worked at Cedar Park High School. 
"We have nice children, nice facilities here," Christman said. "We're pretty spoiled, compared to other situations, but it's a pretty good environment. The people are fantastic, teachers and students. Nothing to complain about."
Teachers, old and new, are looking forward to the rest of the 2019-2020 school year. 
"This is the best school I've ever worked for," Kellner said. "The kids here are amazing. I've not had a single kid who's been disrespectful. Everybody here is just fantastic, and it just makes me so excited to build a career here. Honestly, of all the places I've ever worked in my whole life, I've had more support here at Vista than I've had anywhere ever, and I'm so thankful."