Winterguard Wins State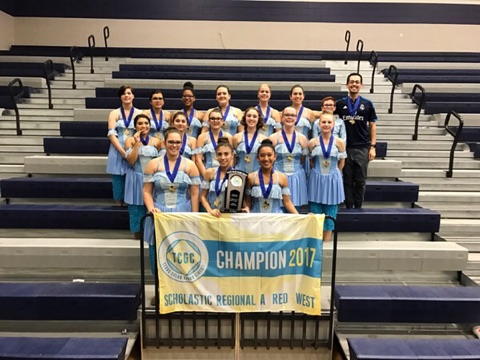 Hang on for a minute...we're trying to find some more stories you might like.
Catching the saber and tossing the flag, senior team captain Janessa Pina-Barrientez led the new winterguard team to state.
At Hendrickson High School on March 25, the winterguard team won the Texas Color Guard Circuit (CCGC) Regional Championships, moving up from a novice class to Scholastic A class.
Newcomers to the team, the girls took their first year to the next level with a different form of dance that included gymnastics and rifles. They placed first or second in all five competitions they entered this year.
"At state and for any competition, we make sure to get mentally prepared and confident and ready," Pina- Barrientez said. "They score us by body movement and how we use the equipment and how well we work together and individually. They score us on fluidity, and if we mess up we get recovery points if we get back in quickly because it shows we just had a slip instead of not knowing how to do what we were given."
Winterguard started because marching season ended, serving as concert season for colorguard. After learning a jazz dance that incorporated different types of equipment, the team ended its season winning first place at the state championships.
"I would describe winterguard as a time for the color guard to shine and show off their skills without the interference of wind and the everyday practice times of marching season," sophomore Hope Vandiver said. "We use flags, rifle and sabres, but we also dance and perform."
The team practiced every Tuesday and Thursday until 7 p.m. in order to pull off all the stunts. They reviewed basics or new tricks and tosses they needed to learn. At the end of practice, they always did a full run of the show once or twice.
"We focus on parts the group struggles on or we work on our own individual struggles for work," Pina- Barrientez said. "We then gradually add in the fixed work to the whole show so we know how it flows into it. All of the other schools have a guard, and it improves the overall band performance and allows for the audience to experience a bigger impact with the music."
Judges at Hendrickson scored the team by performance, flag technique and body technique on a 100-point scale. Despite competing as a first-year winterguard, the team won first place with 90+ score.
"The day of state championships we all met at Vista to go over our show and to get costumes and makeup on," Vandiver said. "We got to Hendrickson, and we went into body warmup then to equipment warmups. We prepare for competitions by running the show multiple times until everyone is comfortable. We'd never move on if someone isn't comfortable with the work."
The team is currently preparing for next year by recruiting dancers.
"The hardest part of winterguard is definitely working up enough courage to join it while the easiest part is making lasting relationships with the guard," Vandiver said. "We love having new people join, and we are a totally judgement-free space. The best parts are the competitions because all the guards are really supportive of each other and people are there to see you, not you and the band. The worst part of winterguard is definitely when winterguard is over. It's so fun and it flies past in an instant."
With its state title, winterguard has made a name for itself separate from the band. Next season, Vandiver will replace graduating co-captains Pina-Barrientez and Kate Namuhmuh.
"Winterguard plays a role in my life by teaching me perseverance and time management while also helping me create lasting relationships with the members on the team," Vandiver said. "Winterguard is really a once in a lifetime experience and so is color guard. More people should join because you have fun while also getting rewarded for your hard work."