Theaters UIL One Act Play-"The Tempest"
Hang on for a minute...we're trying to find some more stories you might like.
Every year the production B class performs a one-act play for UIL. This year's show was Shakespeare's "The Tempest."  To prepare for this play, there were several rehearsals and clinics. They competed on March 17 in the  Auditorium at 7 pm .They received an award for outstanding technical crew.
Junior Abby Phillips played "Ariel."
What is the play about? "'The Tempest' by William Shakespeare is a comedic, dramatic and magical story that follows Prospero, a magical being, and his friends, foes, and servants as old acquaintances and family arrives at his island to which he was sent off to 12 years earlier. As they arrive, Prospero finds himself in an odd situation conflicted between anger and forgiveness.While his magical sprite, Ariel, fulfills his tasks, many travelers from the boat arrive. The story developed into a moving tale about love and forgiveness."
What role do you play, and what does it entail? "I play the role of Ariel, a magical being or sprite of the island, servant to Prospero as he released her from her imprisonment years before. Ariel is such a complex and beautiful character, and I am more than honored to have been trusted with the task of creating and living through her. The role entails a lot of hard work as Ariel is played by myself and three others to perceive her magic to its full capability; and that she can be multiple places at once. This means that we spent hours coordinating and choreographing our movements to make them in sync. This was a lot because Ariel appears in every scene by two of them; so no matter what Ariel was doing, every movement was planned and thought out to further develop her character. Although there were other unique parts of creating the character like the use of colored contacts to make our eyes look white, the covering of a lot of our body in body paint, and singing that the role such a fantastic and full experience."
How long have you rehearsed for this play? "We started rehearsing for this play the Tuesday after musical. Our musical 'Spamalot' closed on Saturday, Feb. 3, and then two days later we dived deep into the project to make sure we had tons of time to rehearse. So we've definitely been rehearsing for a while."
What does a typical rehearsal look like? How long do you rehearse for? "It's hard to answer what a typical rehearsal schedule looks like because this show has so many different aspects to it. Not only are the technical aspects so beautiful; the acting portions are thorough as well. So although what we are working on whether it be tech or performance varies depending on the day, there are a few things that stay the same; we always warm up together. This is one of my favorite times in any theater-related activity because no matter how stressed or excited or tired we are, everyone comes together and grows our energy and prepares our minds and bodies for the hard work ahead. Another thing we did a lot was run the show and get notes. Typically in rehearsals closer to competition time, we would run out set up and strike our set since we only have seven minutes to do each. We would rehearse typically for two and a half hours a day."
How is this year's one-act play different from last years? "This year's one-act play is so different from last year's. Not only because of the story and the plot is different but simply because of the passion and teamwork we have all developed for this project. In all of my four years of doing UIL (including middle school UILs), I've never been in a more driven department. This show was an absolute thrill to be a part of because everyone fully dedicated themselves to their role or position. Overall this show has helped us grow closer together and better at what we do equally as much and that is a strong example of theater magic."
What roles are there? "There are many roles in this show. Its versatility is what makes it so entertaining not only to watch but to perform. I've been working on this show in depth for a long time. If you asked me what genre I thought it was, I couldn't give you an answer because each of them is sprinkles of comedy and flicks of drama, pages of sadness and others of pure joy. There are far too many roles to go into depth with because each of them is unique yet come together perfectly to make an amazing story. In a way, that can resemble our lives and how people of all different backgrounds can come together."
Is there an auditioning process? "The auditioning process was pretty low key and like any other held at the school. At the end of last years school year, we had auditioned for the classes that do the show: productions B and advanced theater tech. Toward the end of the first semester this year, we had in-class auditions in the format of cold reads and then got the cast list. But fun fact we spent a long time auditioning this time around — five days."
How are you able to do the play in less than an hour? Is the set not as complex since it's less than an hour? "The play is cut to only be around 38 minutes because in competition if it's over 40 we get eliminated. It wasn't too hard to stay in the time once we cut enough of the script, it's really just managing the beats and time for each scene is where it gets difficult. The set is a little barer compared to other shows we do because we only have seven minutes to set up. I think we did an excellent job filling the stage and creating a universe for the show."
What happens at the clinics? Why do you have them? "Clinics are one of the most exciting and helpful things. We basically go to another school and perform our show for a clinician and get feedback.It's nice to do this because we get so caught up with being in the show and process that we don't always know if everything is communicated clearly. So we get direct feedback and advice in making our show so that when we go to the competition we have the best show possible."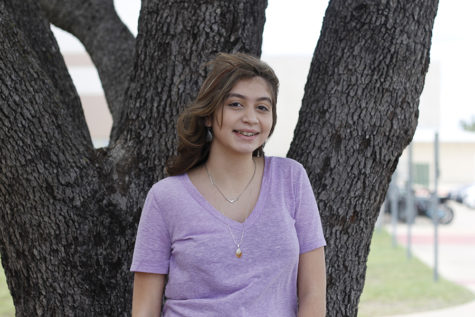 Vanessa Nunez, Reporter
Hi Rangers, my Name is Vanessa Nunez. I'm a 16-year-old junior.I was born in Illinois and lived there for all my childhood. Then I moved to Texas and...