Junior Varsity Tennis Team Shows Promise for Upcoming Season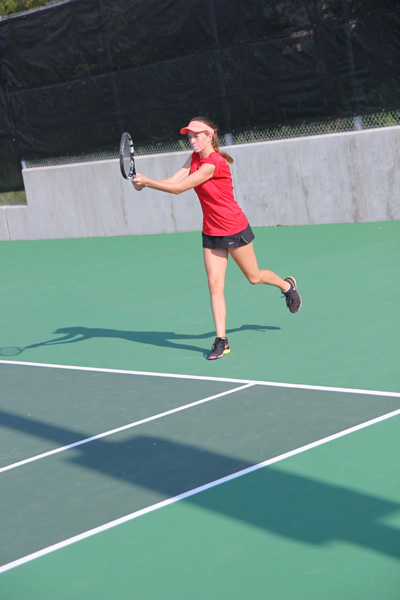 Hang on for a minute...we're trying to find some more stories you might like.
With a 15-4 victory on Sept. 14, the JV tennis team started the season off with a winning record.
"We're doing pretty good," junior Madeline Martin said. "We have a whole lot of seniors on the varsity team, and a bunch of the sophomores have been working their butts off, so JV will be doing pretty good too."
The tennis team is currently in the team season. Things change drastically for them in the spring.
"Right now we're just in team season, which is when we play matches. [On Sept. 14,] we won 15-4. So we won 15 matches total, and the other team won four," Martin said. "For tournaments, it's just one-on-one. So, I can go to a tournament and win first place in girl's singles, and get a medal for that. I'm representing my team, but it's not a whole team thing."
The focus of the tennis team changes in each season. They aim for specific goals depending on the time of year.
"Our next big [event] isn't really until the spring," Martin said. "We're just practicing for districts right now, really."
The team plays matches right now, and the springtime is when they play at tournaments. Martin narrowly lost a heated match she narrowly lost last Thursday.
"Yesterday, I played a really hard match which I will remember because I lost in a tie-break," Martin said.  "It's not sad, it was a good match.  It was really good, it was really long.  The score was 8-7, and the tie-break score was 8-6. I had a whole lot of good shots in that one, and I aced the girl twice. Ace is when you serve, and she doesn't return the ball."
Martin said she feels optimistic about the upcoming tennis season, based on the results thus far. However, she believes that many students rarely appreciate the tennis team's accomplishments.
"A whole lot of people take it for granted, I think," Martin said. "It's definitely not as supported as a whole lot of other sports are. It made me glad whenever I heard on the Ranger Rundown when they said the scores. I was like, 'hey, tennis is actually on there.'"