Tom King delivers a heart-pounding finale in "Batman: I Am Bane"
Hang on for a minute...we're trying to find some more stories you might like.
In Tom King's third Batman story arc "I Am Bane," King sets the stakes higher than ever. With his previous "I Am…" arcs, he's been building up to this moment — the finale, the fight, the drama. And he gives readers a great Batman tale that could contend with "The War of Jokes and Riddles" or match it in quality.
After stealing Psycho-Pirate from Bane in an attempt to save Gotham Girl(issues 9-13), Batman is faced with the coming storm that is Bane and his vengeance. Without Psycho-Pirate to suppress his anger and his lust for venom, Bane is eager to reclaim the Pirate and break Batman and everyone he loves. Batman must claim victory to save Gotham, but most of all, he must reflect on why he's trying to save Gotham Girl in the first place.
I can't give enough praise to Tom King for writing one of the best psychological representations of the difference between a hero and villain: Batman and Bane. They're both the same in their parents' absence, alone and isolated as children, but they are different in how they were brought up. Batman had the care of good people. Bane had criminals trying to push him aside. I don't think the similarity between the two characters has ever been highlighted before, and this well. Tom King also delivers poetically, where the long-awaited fight between Batman and Bane is the fight of titans. Maximilian Zeus, a Batman villain, starts quoting "The Divine Comedy." Quotes such as: "The devil is not as black as he is painted," or "Justice the founder of my fabric moved: To rear me was the task of power divine, Supremest wisdom, and primeval love." This adds to the ominous result of whether Batman or Bane will come out victorious.
There are small flares of comedy in the book, so it's not all dark. Bruce Wayne goes to a Batman-themed fast food restaurant and gets offended when the clerk asks if he wants his fries "Jokerized." It's hilarious and keeps the book balanced. 
David Finch is back for this arc after doing the first one, "I Am Gotham", and this is probably his best work. Bane looks brutal and scary, Batman looks angry and determined, and the atmosphere is bleak and dark; just the way it should be. The way Finch draws the fight scenes make you feel like you're right there, hopeless, and in suspense of what will be on the next page. Finch adapts one page as if that's a whole movie. There's a concrete and exhilarating scene on every page, as well as a climax. He did his job, and he did it fantastically.
As Tom King wraps up his first trilogy of Batman books, this one stands out. There's something for everybody in here: villains galore, plenty of action, deep and incredible writing. This Batman story is definitely something to not be missed. It's quite incredible and gives you more reasons to love Batman as a character.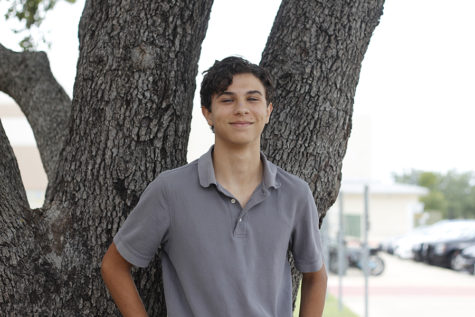 Dylan Bush, Reporter
Good afternoon...or good morning! My name is Dylan Bush. Writing is my passion; what's better!? I'm also a varsity Cross Country runner for Vista Ridge...