VRHS NJROTC Military Ball 2013
NJROTC hosted its second annual military ball on Feb. 16 at the Balcones Country Club. A POW table was set up to remember past and present soldiers who never came home. Cadets toasted to thank those who had made that night and the JROTC program possible.
"I loved military ball and would definitely go again next year," junior Karoleena Ramirez said.
For dinner, the club served chicken fried steak and chicken alfredo. CWO5 Hulse then unveiled the military ball court. The king and queen were seniors Andy Bouchout and Fancy Bailey. Prince and princess were juniors Brad Harden and Tiffany Swanwick. Duke and duchess were sophomores Ivan Castelan and Stephanie Yeatman. Lastly, lord and lady were freshmen Cody Olsen and Kayla Daugherty.
Next in the evening came the change of command. Cadet Justin Logan, former Commanding Officer, passed on the company guide on to the new Commanding Officer, also the princess of the ball, Tiffany Swanwick.
"It was a surprise, and it felt great because of the unexpected nature of it," Swanwick said.
The company's new Executive Officer is Brandon Nguyen. Lastly the company's new Senior Chief is Connor Unruh.
Finally, it was time to dance. Couples slow danced and boys showed off their moves to see who was best. Even some of the girls joined in on the competition.
"It was definitely a toss up for the best between master chief and Tanner Gossett," junior Tyler Murton said.
By the end of the night everyone was on the dance floor, including the instructors CWO5 Hulse and Master Chief Turner. CWO5 Hulse even competed with Gossett in a dance off.
"I was way better than Gossett, hands down. He may be short, but I got low," Hulse said.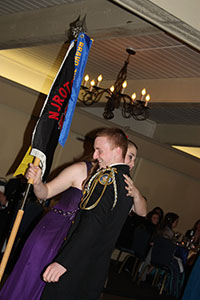 The night closed out with one final slow song, and a thank you to all who came.