Taking to the Stage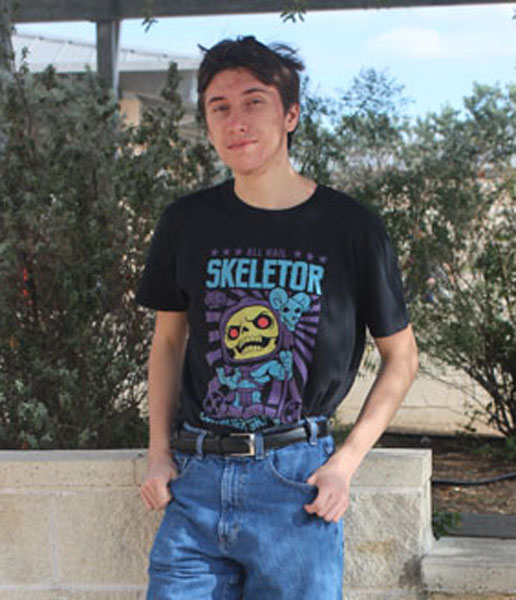 Arms spread wide. A smile blooms. The stage lights shine brightly. This isn't the first time senior Ryan Ekberg has been onstage, and it won't be the last.
Now a senior director and Improv Club lieutenant, Ekberg has been a part of the theater department since his sophomore year, when fellow theater student Aidan Fowler recommended Ekberg attend an upcoming Improv Club meeting.
"I went to that in sophomore year, and it became the one thing I looked forward to at the end of the week," Ekberg said. "The first time I went to Improv Club, I left the room crying laughing. It was incredible. It was kind of my only source of actual joy sophomore year."
After that, Ekberg officially joined the theater department and began acting.
"I started actually acting relatively later than I would say quite a few people in the department have," Ekberg said. "I would say my first genuine experience with acting was around the end of sophomore year. It was for senior directs, where I auditioned and got into one. I played the role of Donny in a senior written one called Waiting for Wesley. If you have not seen it, essentially I played a homeless individual, a homeless little man, with my good associates, Ian Klobe and Camille Watkins. We were three homeless people who were the main characters' good friends. It was written and directed by Austin Macy, so I guess my first director isn't Mrs. Roberts, surprisingly, but rather Austin Macy."
Now that he has gained more experience, Ekberg reflects back on his worst performance, which was the second half of I Hate Hamlet, when his voice died and one of his props broke in the middle of a scene. However, Ekberg counters that with his best performing moment.
"I would say either the first act of my screen time in I Hate Hamlet, the second senior direct I was in, where I played as John Barrymore because I apparently did amazing, according to a lot of people," Ekberg said. "It's in that first half that I remember that I felt pretty okay about it. It's between that and being in the musical Thoroughly Modern Millie. It was, in terms of how musicals go, okay. It was still a great experience. Being in a musical is just a jovial experience."
Over the past three years, Ekberg has moved up the ranks from actor to director, and he finds it hard to decide which one he likes better.
"It really depends on who would be directing me," Ekberg said. "If I had somebody who had an adequate amount of skill in directing people, then I would very much rather be the directed. I've found that directing is a good time. They're really on par with each other, and they can only be put above each other in variable circumstances."
He took part in the production of Bang Bang Beirut, which premiered on Friday, Oct. 27, as a military captain who was shot by a British spy.
"Here and there I've helped to paint the set a little," Ekberg said. "I've done a tiny bit for the actual set and crew production. I have taken, at one point, in-depth of the set. I've gone around with a camera, but I have yet to actually send those out to the publicity crew. In the show itself, I'm playing the role of Captain Sareed el Dur. I show up at the very beginning, and I don't have any lines, but I stay through Act 1."
As a senior who will be leaving at the end of the school year, Ekberg explains how the theater department has changed him since his first visit to Improv Club during his sophomore year.
"Not to be dramatic, but it has actually completely changed my life," Ekberg said. "Honestly, I was a very sad person before theater. I didn't have anything to look forward to. I'm here because of Improv Club. I'm involved in theater this much because I first got into improv."