Junior attends NYC Culinary Camp over summer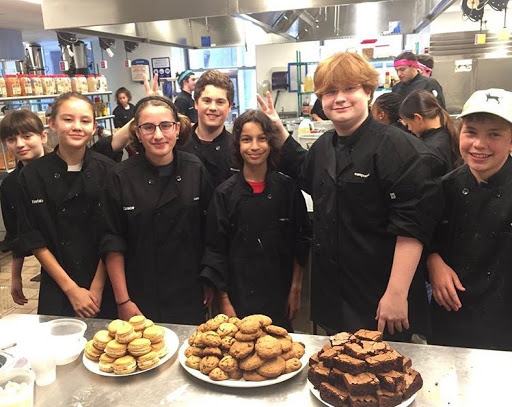 Picking up the dough and wiping flour from his face, he glanced at the ingredients and began to question where he went wrong.  He looked at several recipes and videos, hopeful it would work this time. As this batch began to stick to the counter and the roller, junior Joseph East realized his pizza dough needed more practice.
East saw an ad on Instagram to travel to New York during the summer to advance his culinary knowledge at CampusNYC Culinary camp, and he decided to go for it.
"Some people assume things are easier than they actually are in the kitchen," East said. "For example, making a pizza from scratch isn't quite that easy. I tried multiple recipes and ways to make it, and it didn't help. The whole kitchen was covered in bits of pizza dough. I've learned that there are a lot of things you have to be careful of when handling food."
The culinary summer camp was a week long. From 7 a.m.- 5  p.m., they were in the kitchen cooking and learning new skills.
"Something from New York I'll never forget is the teachers," East said. "They were great to be around, supportive all the time and very charismatic. Most of them had jobs with the Food Network or owned their own restaurants."
Easts' mom owned a bakery in Tennessee where he assisted her in making cakes and desserts.
"When I was 12, I started cooking for my family to help my parents out," East said. "My grandparents signed me up for cooking classes when I started to be in the kitchen more. In those classes, we did stuff like cake decorating, cake making and food trucks. At first I made mostly pastries, but then after I turned 12 my parents trusted me to cook tacos, chicken and the main stuff."
In New York, East learned how to make French pastries like macarons and eclairs, which require a long process with multiple steps. Something East has struggled with is making breads, because of the long process. Cooking is East's backup plan for his future.
"My favorite pastry I've made is an eggless cake," East said. "These kind of cakes are hard to make because the eggs keep everything together. My first attempt was successful, but I had to bake it about three times longer than the recipe said, but it worked out great and tasted good."
Since East has been in the kitchen, he has learned more about proportions. East said culinary arts is an exact science, because of the effect that small alterations can have on a recipe.
"My favorite savory dish I've made is Hawaiian pork kabob tacos," East said. "It takes about 12 hours to make them because you have to marinate them, which is a long process with really specific instructions. But, even though it takes a long time to finish, it's my favorite dish to make. My favorite thing about cooking is making people smile. If you make good food, people enjoy it and have a good time even if they've had a bad day."