Exchange student from Denmark experiences Texas
Junior Louise Heunicke experiences Texas for the 2019-2020 school year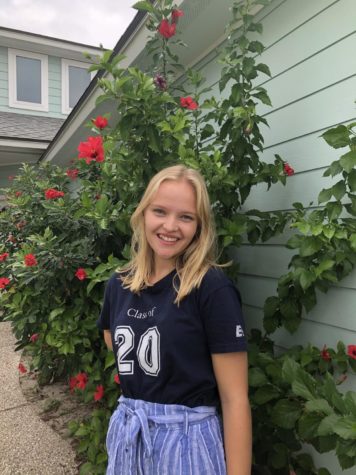 For anyone who's lived in Texas for a while, H-E-B is not that big. For junior exchange student Louise Heunicke, she can get lost in there due to its size.
As a foreign exchange student, there are many cultural differences between America and Denmark, where Heunicke is originally from.
"The list is long, but here are some big ones: the food, transportation, the heat, the way people interact with each other (for example saying sir and ma'am), and then, of course, the language," Heunicke said.
In the beginning, Heunicke felt a lot of homesickness and still does occasionally.
"Sometimes I feel very homesick — it was mostly in the beginning. I try not to be on my phone which makes me even more homesick. I tell my host parents, and they are always a good help. Then we usually go to do something fun." said Heunicke.
Heunicke has made many fond memories in her time in Texas so far.
"It was my host dad's birthday and we all went to Schlitterbahn, that was so much fun. I also love going to the grocery store because they are the sizes of the Danish IKEAS, I could get lost in H-E-B for days." Heunicke said
Heunicke's experience in America has been good overall.
"My experience here has been amazing so far. I have a great host family that I really enjoy staying with. The friends I have made here are so fantastic." said Heunicke.
Heunicke does not know where life will take her in the next 10 years but is sure of one thing.
"My mom is from Sweden, my dad is from Denmark, now I am spending a year here in Texas, US. I love all three countries so much so I don't know where I want to live in 10 years. I would love to do something with science." Heunicke said.