Houston Gastronomy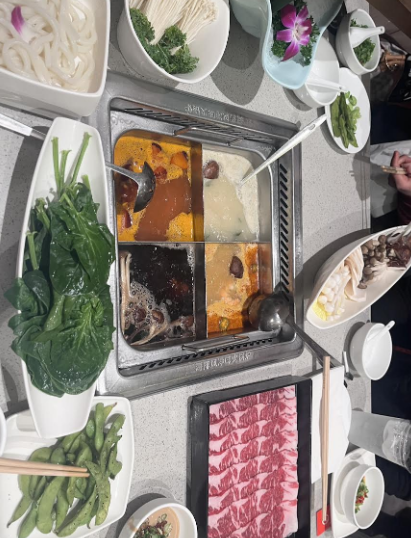 The smells of sizzling hotpot are refreshing and enticing, a nice warm hotpot has always been a safe, comfort food for me & my family. Houston is home to many diverse restaurants, mostly Asian foods and I love the local restaurants there. But Hai Di Lao's hospitality and food has made this place easily one of my favorite restaurants.
As we arrived, there was quite a long line. "Are you sure you want to wait that long for food?," my mother asked. I was excited to try this hotpot restaurant for months and finally had the opportunity to, so I couldn't turn this down. Waiting for a table wasn't bad at all, there was lovely outdoor seating, refreshments, and some light snacks to suppress your appetite. The hospitality here was remarkable already.
Then, our name was called and we were escorted to our table, neatly arranged with the proper utensils, storage areas and helpful items. A kind waitress also gave us a small bag to store our jackets, ziploc bags to store our phones (to prevent our phones getting dirty from grease) and hair ties for the women. I've heard excellent reviews about this place, and I have now experienced the hospitality here firsthand. Our waitstaff was always happy to accommodate and help us, and it made our dining experience so much better.
The food here was also amazing, the seafood, meat and vegetables were all so fresh & delicious. Not to mention, the presentation of the food was lovely, they were garnished with fresh flowers and pretty leaves, enhancing the visuals of the food. Though the bill was a bit expensive, the food was delicious and quality so I believe it was worth it.
Overall, the hospitality at Hai Di Lao was amazing, and I see why everyone was complimenting it, and the food was very delicious, and photogenic too. The only thing is that it was slightly pricy, but the food we ate was quality and the money was worth the experience. The next time you're in Katy/Houston, Hai Di Lao is a must-try spot if you're interested in eating hotpot.