Youth & Government State Conferences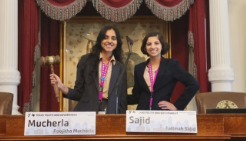 Youth and Government, a national YMCA program, empowers students all across the nation by lending them an opportunity to gain knowledge about government policies. Alongside learning about policies and procedures, scholars are given the chance to firsthand experience how the system works.
"I first heard about Youth & Government from a senior when I was in 9th grade," junior member Poojitha Mucherla said, "I was interested, so I decided to join in my sophomore year."
Y&G has 2 levels; district conferences and state conferences. District conferences took place in November, and state conferences took place in March.
"Typically, the process to create our bill contains 3 steps per say," says Mucherla, "We draft our bill, research the topic, and then practice debating."
Though the club mainly focuses on the Legislative section, Youth and Government has a wide scope of activities, ranging from State Affairs, Media, District Court, etc. which students can participate and take part of.
"When I joined, I didn't expect to enjoy this so much," said Mucherla, "And now, this club is a big part of my life now. It's helped me build my confidence, public speaking, and research skills."
The program's main mission is to help teenagers become responsible citizens and future leaders of the nation, by being both knowledgeable and active in determining the future of our democracy. (YMCA Texas Y&G, 2023) 
"I always recommend my peers and other students to join Youth & Government," said Mucherla, "Because it's such an incredible way to meet like-minded people and learn more about the current world we're living in." 
"Democracy must be learned by each generation" – YMCA, Youth & Government