Crickets Invade Cedar Park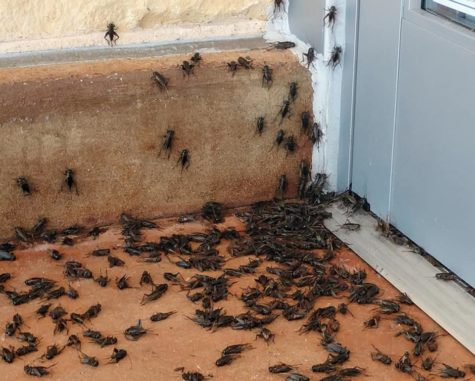 The first six weeks has officially ended and everyone is finally adjusting to their classes and routine. The typical Texan weather has stricken everyone with it's strange weather patterns, including sudden cold fronts and rainstorms. Nothing beats a cold front than the small critters that come along with it like the crickets do. That's right, crickets have officially invaded Cedar Park.
From shutting down the local Whataburger to disturbing all school facilities with their presence. Everyone seems to have their own opinions regarding these freeloaders.
"I hate crickets, they're annoying," Sophomore Brando Montoya said. "They were everywhere. I've killed every one I've seen. I hate crickets. I was eating during lunch, and one even jumped into my cereal. It was awful."
Some people feel neutral and indifferent by their frequent visits.
"They are really weird," sophomore Seth Borchert said. "There was a lot of them, and they were kind of just laying on the floor dead. My girlfriend kept trying to pick them up, and it was really really annoying. There were a lot of them that were dead on the ground. But there was one on the way that my friend Abbey Nelson looked at and freaked her out; it was very funny."
Although many people are not welcoming of the crickets, there are some who actually enjoy their presence.
"I really like crickets," freshmen Alex Zhou said. "I really like crickets a lot. They're a cool bug. This one kid asked me to take one off of his backpack because I was not as bothered by them as some people are so I took him and threw him out. I'm accepting them more; I like them."