Vista Ridge High School football is starting off strong this 2023 season with a 4-0 start. This hasn't been done since 2019.      
Vista Ridge football is looking to make playoffs after missing the opportunity the last two years. The 2023 season isn't just looking different in terms of the record, the team also has a new starting quarterback, number 16, Senior, Jackson Arnot. However, a new quarterback isn't the only other way the team looks different. This year there is a whole new offensive line, some new wide receivers,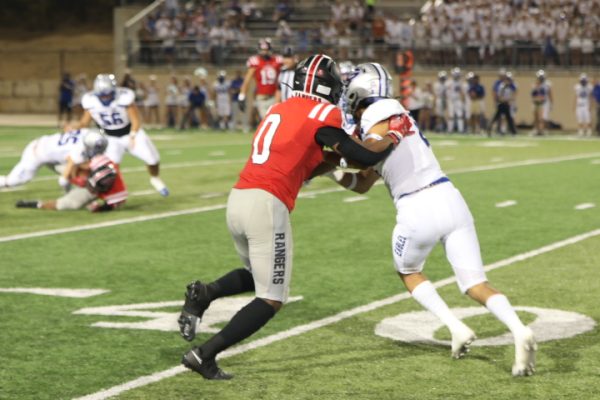 and some new defensive linemen. The defense has been looking great so far,  with the most points a team has scored on Vista Ridge, being 17. The offense, however, has been putting points on the scoreboard with the least being 21 points.
"The year has gone really well, the defense has been clicking, the offense is now just starting to get rolling," senior Jackson Arnot said. "I'm looking forward to playoffs; I believe we can make it to state."
Story continues below advertisement
Arnot has 8 passing touchdowns and 415 yards this year and is excited to be the starting quarterback this year.
"I'm looking forward to playing Vandegrift, I've got a bone to pick with them. This is my last season to try to get some revenge," Arnot said. "I'm excited." 
Senior, Tian Murray is a returning starter this year and plays receiver. Football means a lot to Murray. The excitement of it being his last season carries throughout every game.
"We have gotten off to a hot start, and we have got to keep the momentum," Murray said. "There is definitely a difference in our chemistry. A lot of these players have played together for a long time and have just come together as a team and in unison."
This week Vista Ridge takes on McNeil at Kelly Reeves Stadium in Austin, Texas. Come watch the Rangers, hopefully, keep their undefeated season by taking on the Mavericks at 7 o'clock on Thursday, September 28th. GO RANGERS!