MarioKart Tour Races to Top of App Charts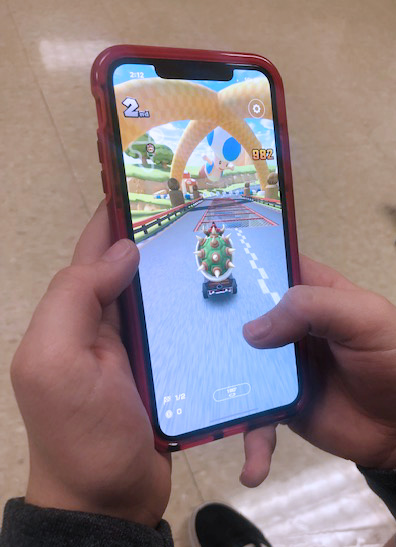 Q: Why did you download the MarioKart Tour?
A: With all the talk about it, I wanted to see how it was. -Kyra Falls, 11
A: I really like Mario, and it's popular. -Emma Painter, 9
A: I'm really good at Mario kart. -Steele Marotte, 9
Q: What do you like about the game so far?
A: I really like that you don't have to bring your whole switch. It's just on your phone. -Emma Painter, 9
A: Getting new characters when you win. Right now I have Peach and Mario. -Lauren Fuentes, 9
A: I like how it's mobile. You always have your phone with you, so you can always play it. -Mel Gravellon, 9
Q: Which is better: Wii or phone?
A: It's better than playing on the Wii because it's in your hand. -Kyra Falls, 11
A: I like that your phone is mobile. -Rod Aclos, 9
A: Playing on your phone is really hard. You can control the Wii better. -Lauren Fuentes, 9
A: I like the switch better because it's more entertaining. -Mel Gravellon, 9
A: I prefer the Mario Kart Wii version because it's an actual game. This one is driving for you. -Steele Marotte, 9