New Restaurants Open For Business
Students pass by these new places every day on their way to school, but do they know what these restaurants have to offer? Local Slice, Juju's Boba Drinks and Sweets, Scoop and Score, Tropical Sno, and Vista Donuts are selling a variety of snacks and drinks.
For all the breakfast eaters out there, Vista Donuts makes the freshest and yummiest donuts in Cedar Park. There's nothing better than a fresh glazed donut in the morning. Not only do they serve donuts, but kolaches as well. When you order one, they heat it up in the microwave for you to make sure it is nice and warm for the best kolach experience.
After breakfast it's always good to have some options for lunch and dinner. Local slice is the perfect place to pick up a delicious pie. They have a variety of pizza and other options on their menu. The classic cheese pizza isn't their best, but it's worth trying. Although, a slice of pepperoni will definitely make any pizza enthusiast very happy. The portion sizes for Local Slice are enough to fill up even the hungriest teenager.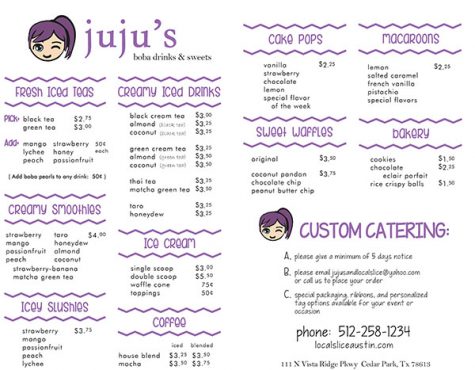 Along with a yummy slice of pizza, you can order something from Juju's Boba Drinks and Sweets to satisfy your sweet tooth. Selling cookies, cake pops, boba tea, smoothies, and other options, Juju's will not dissapoint. You can buy something from Juju's or Local Slice for lunch.

Dessert is probably the most important meal of the day, let's be honest. The best place to get dessert would be Scoop and Score. With many different ice cream choices, employees can scoop for you just what you want. They also serve coffee to pair with your treat.
Tropical Sno is also a great place to find a sweet treat after dinner, or even just a cold snow cone in the middle of a hot day.