Volleyball Program Raises Money for sMiles 4 Sammy
Every year, the volleyball program hosts a "sMiles 4 Sammy" game, which took place Oct. 8 versus the Round Rock Dragons.
sMiles 4 Sammy is a foundation that Coach Chad Scott and his family created after the loss of their daughter, Samantha, to raise money for children who have medical issues or that need special attention for medical reasons.
"It feels good to know that you're being influential and that you have a role in that because it's so easy to sit back and let other people take charge," senior Isabel Burrato said. "But when you step up and help out people close to you, it just makes you feel like you're making a difference."
The sMiles 4 Sammy game is scheduled during the second round of district and is purely for the foundation's benefit
"The proceeds from the concessions and the silent auction money goes to the organization," junior Savannah McCune said. "We raise money, and they pass it along to families with medically ill children."
The volleyball games always have concessions for their spectators, but this one held a silent auction to give even more to the cause. The proceeds go to making gift baskets for the families.
"The silent auction is where the booster club parents put together different baskets for different things," McCune said. "There was a Kendra Scott basket that had a signed volleyball with all of us on it, and people auction money, then all of that goes to the organization."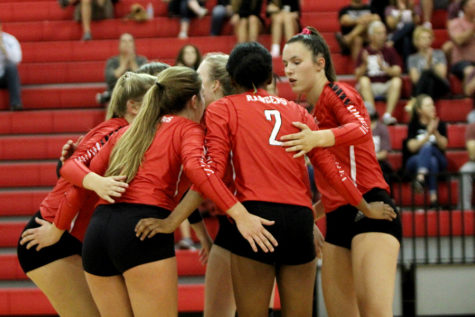 sMiles 4 Sammy has been partnering with the volleyball program for years now, and continue to emphasize that every day is a gift. 
"It definitely hits close to home that Coach Scott, being part of the athletic organization at Vista Ridge, and we wanted to reach out and help them with their cause. Smiles for Sammy is all about 'everyday is a gift,' and it's not about how much time you're given, it's about what you're going to do with it," Burrato said. "I think it means a lot when were about to go play because you can't dictate your future, but you can enjoy the moments that you're living. We're just grateful that we're able to go out and play sports, that we have the opportunity, we have healthy bodies and we can do that stuff." 
As the girls get ready to hit the court, they know that the team is playing for something worth more than a win.
"Whenever we go out we're playing for a bigger cause than ourselves. It makes me try to play harder because that's the goal, and I try to get a lot more people to go to that game because it's for a good cause," McCune said. "It really is inspirational to be able to go play a game after that and know that you are really grateful that you do have the opportunity and to be given the life that you're given."