New drum majors lead band in 'Iditarod'
Hang on for a minute...we're trying to find some more stories you might like.
In marching band, the highest and most sought after positions is the one of the drum major as they, lead the way for the rest of the band. Hundreds of students across the country try out every year, but only a few get selected. This year,the band got four new, first time drum majors, seniors, Alyssa Cabello, Eric Chen, Morgan Jeitler, and junior, Alice Palmiere
When did you know you wanted to audition to be a Drum Major?
Palmiere: "A couple months before the audition. Freshman year I looked up to them, and I thought they were just so cool. my sophomore year, I became really close with Curtis [who was a former Drum Major], and I asked him a lot of questions and found out about the process and how everything worked."
Chen: "I knew I wanted to become a drum major after BOA Austin my junior year. It was my first year being a section leader and that BOA Austin year we made finals.  [Fifth place] was the highest we've ever made so at that point I knew that I wanted to keep doing leadership, but not be limited to just one section."
What was your reaction to the leadership results?
Cabello: "We were about to leave for the Winter Park trip and a fellow bass clarinet player came up to me and said, 'Did you see the leadership result? You made drum major!' I was like, 'No way! I cried after I found out because I was so overwhelmed.'"
Chen: "I was honestly speechless, I didn't even open the email when it first came out. Someone took a screenshot and Snapchatted it to me. So when I looked at that list, and I saw at the top it said Drum Majors and it said my name under it, I was completely speechless, I was so, so shocked and surprised that I was going to be able to have this awesome opportunity." 
How is being drum major different that just being on leadership?
Jeitler: "I think it has less to do with individuals and more like a 'global' scale, like large scaled.  I think there's a lot more pressure placed on our shoulders to help get the band moving and the section leaders moving instead of just motivating our sections."
Chen: "You know section leaders are kind of automatically very close with their sections because they're marching on the field with them and interacting with them way more often, so as a Drum Major you have to put way more effort into getting to meet the members of your band and to know them just as much as a section leader would."
What is your favorite part of being a drum major?
Cabello: "I really like the performances. It really exciting to watch the band hear all the different sounds. It's very different than being in the band and marching."
Palmiere: "I think my favorite part is conducting. I think that's just what I am supposed to do, and I just feel very at peace with myself."
How is the season going so far?
Palmiere: "I think we're doing extremely well, the fact that we have already so much on the field and that we're not using any chalk –that's incredible. The freshman class is extremely smart and capable. I think we have so much more room to go, and I'm just so optimistic about what's going to happen this season."
Jeitler: "I think it's going great. I think last year all the band directors were new, so we kind of eased into it. This year, I feel like we're working a lot harder, and we have a unified goal. And we're more positive all together."
What's your favorite thing about the Iditarod, so far?
Chen: "What I love about the show so far is that it's such a majestic theme. That's what I like to call it. It's about this amazing race that has all these different aspects to it. It has a happy kind of tone, as well as a dark and kind of hardship tone to it. And the thing that I like about it is that not only the music is majestic but also in the choreography, and the drill."
Palmiere: "I like how creative the music is. It's very different from the things I've heard from other shows, and from our shows in the past. I love the idea. It's very interesting; it's very creative. The sets are very visually representing what's happening in the theme. That's really interesting how it connects with the drill."
What downsides have you encountered?
Cabello: "I haven't found any. I thought that being on the back podium would be bad, but I'm still having the time of my life up on the podium. I'm just glad I got the opportunity to do it. And plus, I get to stand in the shade."
Jeitler: "No, I don't think there are really any downsides, I think I put a lot of pressure on myself on making sure I'm doing everything right and conducting well, and making sure I sync up with the other drum majors."
How much outside of band/rehearsal do you practice conducting?
Cabello: "Not really that much. Not more than what I practice on my normal instrument [bass clarinet], but it's good to practice the show."
Jeitler: "It depends on when I have free time because we get home from rehearsal if there's a specific part that I struggled with, I'll practice. Then on the weekends I'll get in front of a mirror and conduct for like 30 minutes."
How has this changed your perspective on marching band?
Jeitler: "I've found that it's less about the individual and more about the group. Like when I'm marching I'm thinking about my set and where I'm supposed to be on my dot and if I'm playing the music. And I feel like as a drum major you get to see the whole band  come together.
Cabello: "It changed my way of looking at leadership and how marching band is more than just going out on the field and marching."
What advice do you have for someone aspiring to be drum major?
Cabello: "Just show [the band directors] what your qualities are."
Palmiere: "No matter who you are or your skill level as long as you work hard and you look for ways to be better you can always be the person to be picked."
Jeitler: "I think that the biggest thing that someone could do is start building relationships with the band around them, because if they are going to be drum major that's who they're going to be leading."
Chen: "Go ahead and do it. One thing that I've realized is that I was afraid to make a fool of myself. I was afraid to fail. You're never going to learn unless you go out and make a mistake."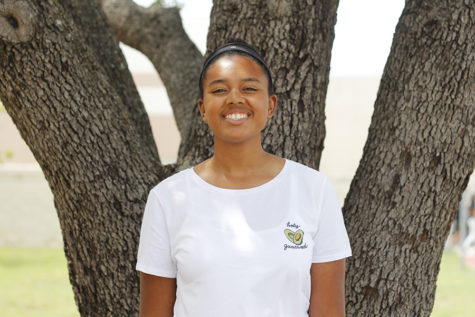 Kaya McDonough, Reporter
Hi! My name is Kaya McDonough, and I'm a junior here at VRHS. I am so excited to be on the 2017-18 News Media team. I play the French Horn and am also...