It Will Get Better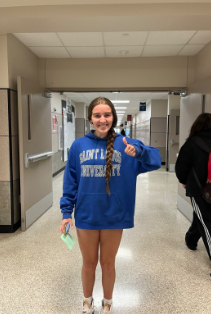 You wake up in the morning, open your window, see that it's gloomy outside, and already know your day is going to suck. It seems like every day it's raining or cold outside, your mood reflects the weather. You're not crazy, you might just have seasonal depression or seasonal loneliness. You're not alone. On average 10 million Americans have the same feelings as you each year.
One of these people who also experiences seasonal depression is Vista Ridge sophomore, Chloe Christian. When asked if she felt she had symptoms of seasonal depression, her response was, "Recently I think I have been experiencing seasonal depression or loneliness during the winter season, December-February, when the weather is all over the place, it's darker longer and it's cold and weird." 
"My favorite season is summer because I love going on trips over the summer break and I like being able to swim and be outside in the sun." said Christian. "My favorite weather is probably sunny and warm but not too hot. I love being in Colorado where it's sunny and you can wear shorts and a light jacket." Notice that her favorite season and favorite weather are both sunny and warm. When asked if there was a correlation between her favorite times of the year and her mood during those times, her answer was an overwhelming yes. "I feel like if the weather is, 'good' then my mood is good. When the sun is out and there's a little breeze I'm happy and in a better and lighter mood."
"I feel most like myself in the summer, there's less stress and I love the sun over summer," said Christian when asked about what season she feels the most like herself. Similarly, when asked about what weather she feels the most like herself, the answer was, "I feel happiest and most like myself when the sun is out but there's a slight breeze so it's not hot. Colorado in the summer is perfect to me, where you can wear shorts and a sweatshirt and feel good." This confirms that not only are people's moods better in the sun, but they are better people. They are the happiest and best versions of themselves, and this is something that everyone could use a little bit more of. 
Luckily, these feelings will not last for Christian. She has said that since it has started warming up, she can already feel her mood becoming lighter. She says that late March seems to be the time of the year when she starts becoming herself again. 
While we know that the sun will always come out and shine again, it can be really hard to get through those long cold months. Christian's advice was to just surround yourself with people who can help. "I think finding someone to talk to about it who understands really helped me, also music helped me stay positive and knowing that crying is okay and sometimes you just gotta cry it out." Her advice for anyone struggling like her was just to know that it's okay and that they are not alone. "I would tell them that it's okay to be sad sometimes and cry it out but everything will get better and you just have to push through the hard times, also find someone to talk to, whether it be a friend or family member or even a therapist if you want."
The biggest thing to remember is that you will be okay. The sun will shine again, it will warm up. And if you live in Texas like us, it'll get so hot that you will yearn for the cooler weather. Christian knows this too, and she wants you to know, "It doesn't last forever, things do get better. You just have to trust and believe and get through the season."