Random Ranger: Grace Fridel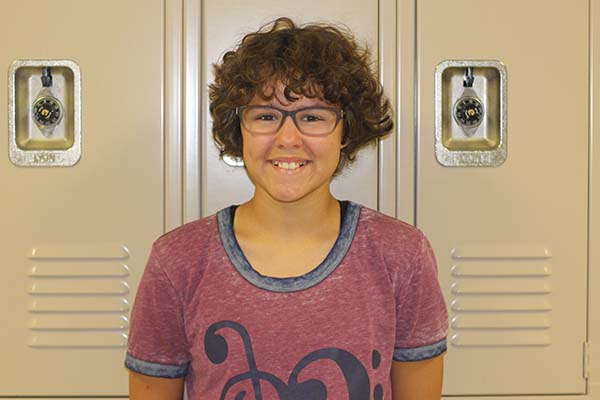 Hang on for a minute...we're trying to find some more stories you might like.
Grace Fridel, 9
Q: What are you involved in on campus?
A: Art 1 and band, I play the trumpet.
Q: What are your hobbies or interests?
A: I like to draw, play music on my instrument, and write.
Q: Describe the craziest thing that has happened to you since school started.
A: In band, we broke out into the Pokemon theme song, just screaming. We had a speaker, and the Pokemon song came on. Our nerdiness just sort of showed a lot as we screamed it down the highway in the band bus.
Q: When did you first start drawing?
A: Ever since I was little. I don't know the exact age, it just sort of [happened] —  poof draw!
Q: What is your favorite thing to draw?
A: My favorite thing to draw is landscapes and people, because it's a challenge but it's also really fun. You can draw emotion and draw attention to the person's eye and bring out detail in things like the sun, that you wouldn't have seen in a photograph.
Q: Do you have any aspirations to form a career based off your drawing talent?
A: I hope to be a comic artist or a manga artist in the future.
Q: Has drawing aided you in your school work or any other activities?
A: Sometimes it has, other times I sort of blank out from the class and just doodle on the side of my page, which probably isn't helpful.
Q: Do you have any other special talents?
A: I've played football since I was probably 7, and I can play three instruments — guitar, trumpet, and piano. I'm not going to play [football] for the school; I have band.