Wrestling captain leads team by staying focused, fit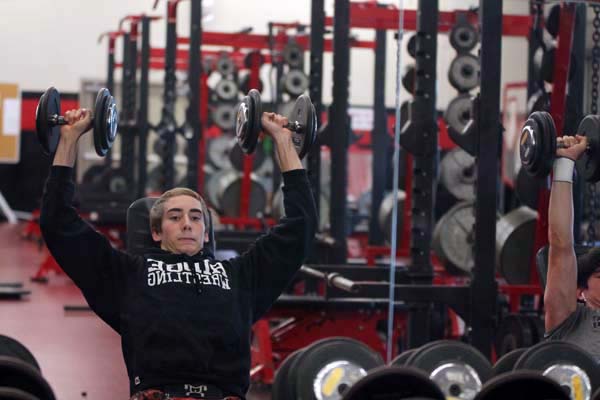 Hang on for a minute...we're trying to find some more stories you might like.
Junior Grayson Holmes
Why did you want to be in wrestling?
I first wanted to be in wrestling because I heard it had the most intense workouts.
How does wrestling make you feel?
Most of the year being in wresting makes me feel strong and useful, but at times it can be depressing. All wrestlers know how depressing it can be to work out three times a day without eating or drinking that day. Coming back from a two hour practice where you lose five pounds of water weight, then not re-hydrating after can mess with you mentally.
What is the best part about being in wrestling?
The best part of being in wrestling to me is the team I get to be a part of and the new brothers I have now.
What is the worst part about being in wrestling?
The worst part about being in wrestling is the weight you have to cut for season and all the time you have to spend after school and on the holidays at practice.
How would you describe your relationship with your teammates?
My relationship with them is more of a brotherhood then a team. As the captain, the other wrestlers come to me for advice, and they rely on me to lead them.
What role do you play as the captain?
There are two wrestling captains every year, and our job can range from having to make sure people are at practice to leading practice if coach isn't there. Although me and James Chapman also help anyone on the team girl or boy if they need it.
What are some sacrifices you have to make for wrestling?
During season, I have to sacrifice a lot including most of my free time, my good grades and the majority of my social life. Also, I cut all sugary foods. Most of the time it feels like it's not worth it, but I truly believe that in the long run it is.
What kind of conditioning and training do you have to go through to be ready for the season?
I spend on average 18 hours a week in the wrestling room. This is not including the two hour workouts every day or the morning training with the freshmen. And the training can be anything from 4 mile runs to two hours in the weight room
What goes through your mind right before a match?
Before a match I try to keep my mind completed empty. I don't even think about the other wrestler.
How does wrestling affect your life?
Wrestling has completely changed the way I go throughout my day. I have never had to manage something like weight before. But now I am constantly checking my weight and body fat.
How has wrestling affected you as a person and who you are?
I believe wrestling has made me a much more responsible and patient person. Because of all the blood, sweat and tears I have left on the mat, I have a much higher appreciation for hard work.
What are you goals?
My end goal is to place in state and make my name on the wall. I don't plane on going to college for wrestling but I still want to leave my mark on Vista Ridge. I hope to have a great positive record at the end of season as well as making it to the state finals.
What are some of your biggest achievements?
Some of my biggest achievements include placing at the district tournament and being elected captain my junior year
Who placed in the meet on Jan. 6?
At Hill Country Invitational we had five placings including three girl wrestlers. Jada, Alena, and Faith. Who wrestled at 95, 126, and 170. Also several boy wrestlers like Boyd at 220 and Troy at 106.